Friday, July 3, 2009 ♥
Hello readers !
heard the topics for the malay olevel oral exam for yesterday and today was difficult ! O.O
im soooo scared for mine next tuesday ! arghhh ~
and im the first person in the list ! greaaaaaattt ~
haizzz.. oh well, shouldnt be demoralized now.
must have positive attitude ! i can do it ! :D
insyallah ~ hehe.
the whole of next week gonna have pre-prelimary exams.
but not gonna be recorded though. pheww ~
i should start studying now. hahaaaa.
but i want to finish my coursework first.
the whole class had to redo cuz mdm soraya made a mistake in explaining the stuff.
urghhhh. wasted our hours of comp lab sessions.
but what to do kan. haiyaaaa.
eyhh ! want to see my alim picture ? HAHA.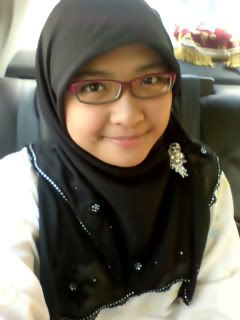 sooo the good girl gitu kan? hahaha ! xD
okay this was when im going for kenduri tahlil.
hahah ~
anyways, now chatting with azura & izzat. ahahaa.
izzat gilerr ahh ! ~
haizzz.. mcm2 lah budak ni. terpakse layankan. xD
************************************************************************************
you asked me whether i miss you.
and i think i do.
HAHA.
okayy. sungguhnye tk perlu.
see you soon, FRIEND :)
listened to the sweet sound @ 6:23 AM