Thursday, July 23, 2009 ♥
heyya!
i'll show ya guys some videos k? HAHA.
the above video is ermmm..
aliffaziz
singing to rentak cilik's songs.
i especially love the piring hitam song(03:52 & 05:28 ). so yeahh. u guys sud watch this vid.
the song is really inspirational and cute.
and yahh aliff is cute too. HAHA. dah lamer tk ckp tu nyer sentence eh? ehh?
nyehahaaaa ~
Oh YES !
I'll like to wish my very very adorable yet irritating sister,
Nur 'Aqilah 'Adani
a very
HAPPY 3rd BIRTHDAY!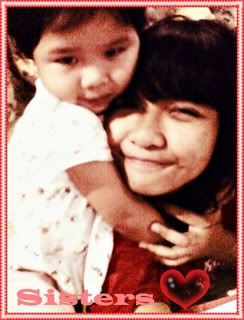 nyehahaa. okay. the picture above is an old photo. idk.
theres no recent photo that i took with her. hahaaa.
so yeahh, jangan naughty2 bile dah besar kay? xD
love yaaaa .. mwahhh !
gonna have a small celebration for this little baby.
haha. dad already bought birthday cake from prima deli.. YUMMY!
abang hadi gonna buy food and mum already cooked some small stuffs.
wooopiee.. confirm lepas ni gain weight. -_-
anyways!
the video above was during Youth Extravaganza 2009 @ Bukit Panjang Plaza..
* i record u knw *
3 words.
Still Youngz Rockz
! \m/
HAHA. k random.
and and and and.
sayang so cute maen guitar! :D
cheyh syg keperr nurul. haha!
hmm. tapi mcm dah biase ah eh iskandar? nyehahaha !
k random.
ehh u, u maen guitar left handed tk confuse ke?
mcm maner lah sehh. susah benar.
k dah dah. nk kene blaja for physics test.
haha! mcm phm.
k bye!
ps. im really really disappointed that i loss half mark for miscalculation of SIMPLE addition for POA test. such stupidity! im really stressed. because of that, i didnt get my full marks. -.-
ARGHHHHHHHHHH ! ~
listened to the sweet sound @ 6:03 PM