Thursday, August 6, 2009 ♥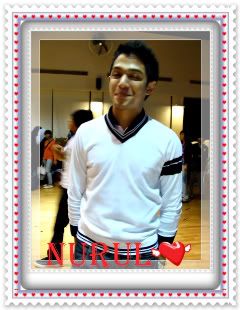 i didnt realise that i forgot to post the picture above me in the previous post until bestie told me.
HAHA. so yeahh thats syarif. asked him to pose for me during the album launch.
rif cheeky ehhhh?? hahaa. tk perlu. but CUTE (: *winkwink*
so anyways!
the week has been okay but always felt sleepy.
yesterday was chemistry test. it was okay. idk. haha.
today got F&N and Geography test.
F&N test quite easy lah as usual. can pass.
Geography was doable. the test was quite easy. but idk if the points that i wrote was relevant. haha. i didnt study for it. xD
then POA got surprise test! -.- basket sia cikgu.
but its okay lah. quite simple. but i made some mistakes. haiyerrr.
EH! i havent do CME journal. not planning to do though.
cant possibly complete 7 entries in 1 night kan? gilerr.
haizzz.. kene marah pon kene marah lah eh nurul. ape nk buat.
hmmmm... next week shall be a very busy week.
f&n coursework , pre-prelim exams. so many things to study.
and i'll be celebrating mum's birthday during the weekends.
how eh ? i'll call my manager to do my time scedule later.
cehhh mcm paham jekk ! step artist plak kat sini..
"menyampah aku" NUDGE NUDGE BESTIE! haha.
alrights. i think berok , eh i mean bro nk use the comp. haha.
k bye ! :D
listened to the sweet sound @ 9:58 PM