Sunday, September 27, 2009 ♥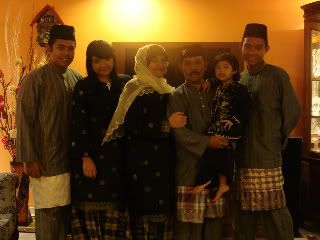 im tired. have been busy with hari raya stuff.
and this weekend didnt go jalan raya ! only went to relative's open house.
well thats quite fun lahh cuz dapat berborak dgn cuzzin ayuni. muahahaa.
but the rest of yesterday and today, spent half of my time helping mum at the kitchen. wah piang ! penat u know !
nk layan tetamu laen. haiyooo.. but at least got some duit raya lah.
sad part is, didnt get to study much. only on friday night. studied chemistry.
but im quite pissed cuz we didnt go jalan raya. so sad ah cuz i dont know if i can go jalan raya next 2 weeks cuz olevels coming mah.
so how? nk jalan raya next week or study? but i want get duit collection.
hahaahahaaaa.. okayy i dont know lahh.
actually theres tetamu right this minute. at the hall.
and here i am. blogging. hahaa!
tk betol. k lah. i stop here. nk layan tetamu. and i dont even know them.
hahaaaa.. okaylah. BYEBYE! :D
listened to the sweet sound @ 3:31 PM